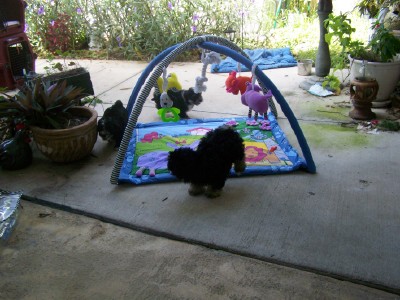 Training puppies in their early weeks means exposing them to noises, people, textures, toys, and even temperatures.
We try to do this in a way that is supportive and not frightening. This way the puppies have a great start on being the perfect companion dog.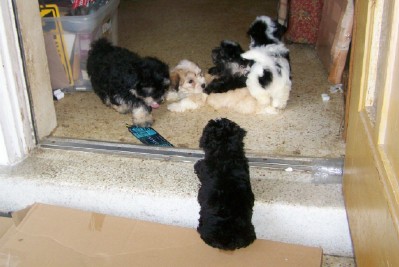 Something as simple as teaching puppies how to climb stairs can be done safer by using a cardboard box in the beginning. These puppies learned in no time and were soon coming and going without any effort (and without the box, which they ignored once they got used to the steps)!
Puppies learn a great deal about play from this puppy gym. They are intrigued by the variety of toys and textures and are ready to "attack" the lion's tail in this picture.
We encourage our families to continue their puppy's great start and they will have a wonderful companion for many years to come.
If you want to add one of these smart puppies to your home, contact Barb Frazier e-mail address:
brazhavanese@aol.com